This Sunday, the Tony Awards will light up screens around the world, with Britain's James Corden – going from strength-to-strength as the presenter of The Late Late Show – as host for the night. The combination of Corden's popularity, and the genre breaking, grammy winning Hamilton – a musical about the life of American founding father Alexander Hamilton – which is nominated for a record breaking 16 Tony Awards, has firmly brought the Awards back into the mainstream.
The awards are a highlight in the theatrical calendar and the glitzy ceremony, studded with musical performances, is broadcast across the globe. A nomination can generate an increase in ticket sales for a show, and research has shown a win will – following an initial boost of 12% in profits – continue to reap financial rewards long after the Tony's are over.
The build up to the awards this year has seen Corden getting more exposure than ever – particularly because of his latest Broadway Carpool video, which features Lin Manuel Miranda – who created and stars in Hamilton – and other Broadway luminaries.
In the video Miranda touches on the financial gains to be made by winning an award, comparing his experience of previous Tony awards with the unknown show "In The Heights" (Best Musical 2008) to his "Hamilton", which is "selling fine". A total understatement, the show is pretty much sold out until next year unless you want to pay a ticket tout a 1,000% markup.
As with all award ceremonies the Tony's are not without criticism – detractors cite the focus on larger commercial producers and the power of the sponsors of touring productions. As well as the Tony's inability to provide coverage for anything more challenging. Although it should be said that compared to other industry awards – such as this year's Oscars – the 2016 Tony nominees are an incredibly diverse bunch, which led to the hashtag #TonysNotSoWhite.
And yet, the uninitiated might still be wondering who is Tony? And what does he have to do with Broadway theatre? In actual fact "Tony" was a woman, Antoinette Perry to be precise. When she died in 1946 the theatre community decided to establish an awards ceremony as a permanent memorial to her. And 70 years later medallions bearing her image are still handed out to recognise theatrical achievement.
Tony's story
Mary Antoinette Perry (Tony for short) decided on a career as an actress from an early age, telling a reporter in 1935 that "when I was six, I didn't say I'd become an actress. I felt I was one. No one could have convinced me I wasn't".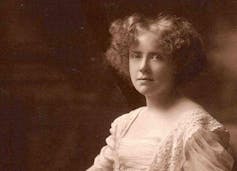 Her ambitions met with some resistance from her father, who was an attorney. He felt that a career in music was more suited to a young lady of her class. However, Perry persevered, spending summers travelling across America with her actress aunt and uncle, and making her debut in her uncle's touring company at 15.
Two years later in 1905 Perry came to New York and began pursuing roles on Broadway and beyond. She managed to sustain herself, achieving roles in The Music Master and A Grand Army Man before being swept off her feet by her former beau Frank Wheastcroft Frueauff. The pair were married in 1909 and Perry gave up acting to become a full-time wife and mother – a decision she never regretted.
Frueauff's wealth allowed Perry to develop her altruism and support young actors and directors along the way. However, she never settled into life as a lady who lunched, declaring: "Should I go on playing bridge and dining, going in the same old monotonous circle? It's easy that way, but it's a sort of suicide, too". So it was of no surprise that following Frueauff's death in 1922 Perry returned to the stage.
No business like show business
Her friendship with theatrical producer Brock Pemberton lead to Perry taking the reigns as director, initially in collaboration with Pemberton. And in 1944, Perry directed Mary Coyle Chase's comedy, Harvey, which went on to win the Pulitzer Prize for drama.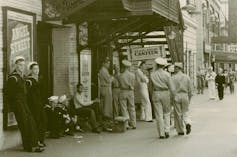 Despite her creative success on and off stage Perry was most warmly remembered for her work as an activist and organiser with the American Theatre Wing – the organisation that oversees the Tony awards – under the umbrella of which she established the New York Stage Door Canteen, where performers, including Al Jolson and Marlene Dietrich, would entertain soldiers free of charge during World war II.
So it is of little surprise that following her untimely death the theatre community wanted to honour her memory. Originally the awards were presented on Easter Sunday, as most Broadway shows would be having a break for the holidays. This meant that performers could attend the ceremony – which was also broadcast on local radio. Today, the awards are a global affair, with live streams across the world and a huge online social media presence that includes Facebook, Twitter, Instagram, YouTube and Snapchat.
As well as celebrating Hamilton's huge success, the 2016 awards will honour Tony's memory in a medley of glitz, glam and jazz hands as the theatrical movers and shakers crowd into the Beacon Theatre, New York, to showcase their achievements.
There will be singing, there will be dancing, there will be acting, there will be tears and laughter and a lot of performers determined to not (in the words of Hamilton), "throw away their shot", and make the most of this global publicity machine.